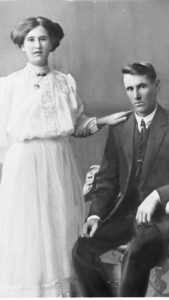 I had this dream 12½ years ago. It impacted me strongly at the time and left a permanent memory trace because of its transformational nature. I was prompted to write about it by a blog post I saw with a similar theme of awakening consciousness and healing. The post, Dreamspeak: Ancestral Healing, is the story of Toko-pa Turner's dream visit by her Holocaust survivor grandfather, in which he apologised to her for passing on the effects of the trauma that he was only able to cope with by keeping it to himself. My dream visitor was my maternal grandmother and though the circumstances differ, the theme of unprocessed grief resonating down through the generations and the longing for completion – which appears to be as desirous from the other side as this one – is similar.
The dream:
I am in my dining room and Grandma Sweet is sitting at the table. She is young, attractive and very happy, so unlike how I remember her. I tell her I realised some time back that my hands are just like hers and put my left hand against her right to demonstrate. I say I have a photo of her that shows it very clearly and go off to look for it.
I rummage around in the pile of family photos but can't find it and wonder if I've thrown it away. When I find it I realise it is her wedding photo – a fact I had forgotten. Her husband is sitting on a chair and she is standing with her left hand resting on his shoulder. It clearly shows the distinctive line of the thumb and the long fingers.
I think to myself that Grandma might like to see what has been happening in the family since she died, so I put her photo aside and start sorting through the rest to make a selection. In the process, I misplace her photo and have trouble finding it again. When I do, I look at it and realise 'Oh, Grandma doesn't need to see these, she knows everything that's gone on.' It was quite a revelation.
As I emerged from the dream, I was overcome by a sense of deep compassion and love for her that took me completely by surprise. Our family had lived with Grandma until I was 11 and I remembered her as a bitter and miserable old woman, frequently bedridden, always complaining and smelling of citronella. According to her she had a bad heart but according to Mum the doctor couldn't find anything wrong with her. I never liked her as a child and was further influenced by her antagonism towards my mother and the stories Mum told of her oppressive childhood. When I awoke, my perception of her was instantly and permanently transformed.
I had the dream just a few days before my divorce was to be finalised, so that made some sense of losing the wedding photo but I had no clue as to why it would be Grandma as she had never remarried after her husband died, as I had. At this point she had been dead 42 years and was part of my distant past. Why was she showing up now? I also wondered about the significance of the hands – why had they been made such a big deal of?
I posted the dream to the forum I was on at the time hoping for some clarity from other viewpoints. One of the suggestions was that I might be 'handling' life like Grandma and that had a certain resonance because at that stage in my life I was feeling very fragile and barely holding myself together. The unexpected ending of my second marriage had derailed me just as life was beginning to settle down after all the upheaval of my first husband's death. The fact that Grandma was so happy and youthful in the dream gave me hope that the future would be brighter and I concluded that the message of the dream was just that – you will be happy again.
Because the framework within which the forum operated considered that everyone and everything in a dream represents something about the dreamer, I missed entirely the fact that this was a spirit visit from Grandma. As such it had a healing power that went way beyond the scope of psychological insight because it came from the deeper part of the psyche that Jung called the collective unconscious – a sphere of reality beyond that of the personal unconscious. In addition to reflecting my personal attitudes and beliefs, Grandma's appearance in my dream was showing me a greater perspective – a viewpoint from beyond the physical time-space world. Although I lacked the knowledge and understanding of the Jungian approach to dreamwork at the time, the numinous quality of the dream ensured that it would continue to gestate in the depths until its wisdom and meaning came to fruition.
As a result of the dream I decided to research the family history and was shocked to learn that Grandma's husband had died of cerebral syphilis. The story we had grown up with was that he had sustained a head injury in a fall from a cart and never recovered. Grandma was only 37 and was left with 5 children, the oldest being 13 and the youngest only 18mths old. I also learned that she had lost 4 children in infancy, including one who had been born more than a year after her husband's death, with no father's name cited. Poor Grandma! I could only imagine what shame and grief she had to bear, on top of trying to survive with no means of support. By the time I came on the scene in 1950 she was 60 years old and no doubt had been well and truly worn down by life.
I framed the photo that had been in my dream and kept it on my bedroom dresser where it served to remind me of the strength and resilience I had inherited through the motherline. Grandma Sweet may have lost her sweetness through the slings and arrows of outrageous fortune but her survivor spirit was an inspiration to me. When I moved house several years later I packed the photo away. It was a fitting gesture to moving on, as it had been her death that had resulted in my mother moving with her daughters away from the mining town that had been our home with its stifling atmosphere, oppressive conditions and lack of opportunities for women.
It was only recently that I got a new perspective on the significance of the hands in the dream. The Toko-Pa Turner blog post referenced at the beginning of this story appeared on the Depth Psychology Alliance Facebook page I follow and I posted a comment: I had a dream of my grandmother once. She said nothing but I was shown a photograph of her in which I recognised my hands were the same as hers. A lifetime of antagonism towards her melted away. I love what Amy Beth Katz said about our ancestors returning in our dreams. That is definitely my experience.
Amy responded with: You have healing hands, Gloria, don't you?
My immediate reaction was 'No way!!!' but the intensity of my denial surprised me and so I began to wonder 'why so adamant?' I had worked as a massage therapist many years ago and had also done Reiki but neither were really my thing, so that didn't fit. Then I thought about the fact that through all the dark times, starting with my late husband's cancer diagnosis 20 years ago, writing was what kept me sane and helped me work everything through. I did dialogues with dream characters and other figures from the imaginal realm, cathartic rants that I ritually burnt, worked and re-worked a book (still a work in progress), wrote about my experiences with hypnotherapy, wrote up my dreams and explored them through writing, participated on the dream forum and journalled religiously. Writing has, without question been the most healing thing I've done with my hands but it was mostly self-healing.
Then I thought about this blog – from the very start my intention in writing about my dreams has had healing as the focus, as that has been a constant thread in the dreams. I initially decided to blog my stories because I've always loved reading other people's stories and been helped a great deal by them but I have been stalemated for over a year because of that insidious voice of self-doubt: It's too hard. It's too personal. You're not a writer. What's the point? Who cares? Who wants to read it anyway? People will think you're nuts (well, I thought I was myself at one point so that would be no surprise). Why don't you just go and enjoy yourself? And the most crippling of all – uttered with a sneer of course – 'Just who do you think you are?'
As I pondered this, I remembered a story my sisters and I had grown up with. Mum had won a writing competition at school and received a prize. When she proudly showed it to her mother – Grandma Sweet – Grandma became very angry and told her not to waste her time on nonsense like that. And so she didn't, instead following in the path of domesticity that was laid out for her as a woman of that time and place and social status. She ended up like her mother, a 'deserted wife' with 5 young kids to raise. My impression of Grandma was that she was a mother and homemaker by nature and that her great misfortune was in the tragedy of her husband's early death. Not so my mother; having to conform to the domestic life was a disaster for someone with her free spirit and resulted in a lifetime of nervous breakdowns with the inevitable trauma to her daughters as we were split up and bounced around among relatives and neighbours.
When I think about this dream now I picture the gesture of putting my hand against Grandma's as a 'high five.' It wasn't really like that in the dream and yet the image is very compelling. I do feel her dream visit was a blessing. I am sure she would approve of what I'm doing and I know my mother absolutely would. My mother and grandmother couldn't tell their stories and suffered accordingly but I can and am grateful for the opportunity to be able to do so and intend to make the most of it.